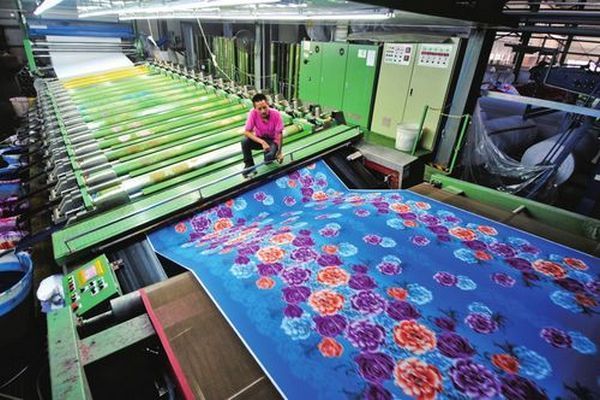 Printing is a process to get colourful decorated fabrics by application of dyes,pigments etc. in the form of patterns.
There are mainly four kinds of methods in textile printing. These are block printing ,roller printing, screen printing and heat transfer printing.The other types of printing methods are ink-jet printing, sublimation transfer printing, spray printing, stencil printing, photo printing.
There are 3styles of printing. They are classified as direct,discharge and resist.In direct printing, colours are applied directly on the cloth.For discharge printing,the cloth is first died with a background colour.Then the colour destroyed by appling or reducing reagents followed by patterns.Resist process involves appling a special resist paste on the fabric in patterns and then dying the fabric so that the paste applied areas will resist dying and will appear as the base colour.
Block printing:
In block printing,usually wooden blocks are used and the design is hand carved.The colour is applied to the design surface on the block and it pressed against the fabric.It is a slow and laborious process.
Roller printing :
It is a very high speed printing methode.The equipment of basic roller printing consists of a number of copper faced rollers where design patterns are attached.Rollers of different colours rotate over the fabric under pressure against an iron pressure roller.After colouring,the fabric passes to the drying and steaming stages.
Screen printing:
There are two basic types of screen printing. These are the flat screen printing and the rotary screen printing.Recently screenprinting has increased enormously for being capable of very high rates of production of screen printing machines. Besides,heavy depths of shade can be produced by this method.
Heat transfer printing:
In this method,a design is transferred from one medium to another medium.Firstly, a design is printed on a special paper.Then the paper is placed in close contact with the fabric and heated,when the dyes sublime and transfer to the fabric through the vapour phase.
Ink-jet printing :
This is a homemade version of direct to garment printing.An ordinary inkjet printer is used to print on fabric pieces.
Sublimation transfer printing:
In this method,an inkjet or colour laser printer,sublimation ink,and a heat press machine are needed.
Spray printing :
A spray gun is used to force the colour on to the fabric in this method.
Stencil printing:
Stencils cutting in the shape of the designs are used in this method.These are made of plastic, woodpaper or metal.Colour is applied on the spaces cut inside the stencil.But it is mostly used for single use purposes because of taking long time.
Photo printing:
In photoprinting method,the fabric is coated with a chemical that is sensitive to light and then any photograph may be printed on it.
These are the methods of fabric printing. Some of these are very slow and laborious method.We need to work for increasing the production rate of these printing methods.
Writer Info:
Name: Farah Ulfat Urbi
Department:Textile Engineering
Batch:2k19
Khulna University of Engineering and Technology