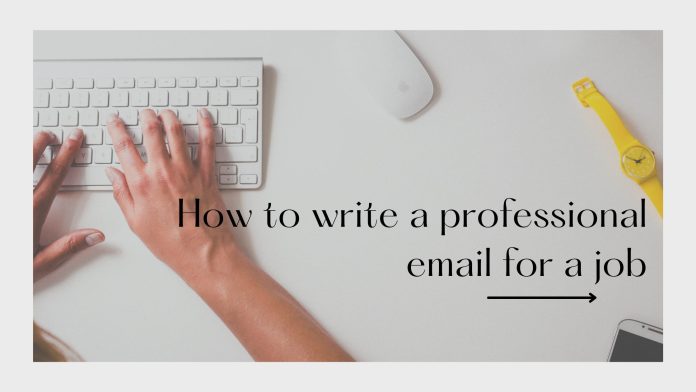 Writing a professional email for a job is important to make a good impression on the employer. Here are some tips on how to write a professional email for a job:
Use a professional email address: Use an email address that is appropriate for a job application. Avoid using an email address that includes nicknames, jokes, or inappropriate language.
Use a clear subject line: Your subject line should be clear and concise. Use a subject line that mentions the job you are applying for, so the employer knows immediately what your email is about.
Address the recipient properly: Use the proper title and name of the person you are emailing. Do some research to find out who the appropriate person is to address.
Use a professional tone: Use a professional tone in your email. Avoid using slang, informal language, or emoticons.
Start with a greeting: Begin your email with a polite greeting, such as "Dear [Name],"
Introduce yourself: Briefly introduce yourself and explain why you are interested in the job. Mention any relevant experience or qualifications you have that make you a good fit for the position.
Be specific: Mention the job title and any job posting number in your email, so the employer can easily identify the position you are applying for.
Provide additional information: Provide any additional information, such as a resume or cover letter, that the employer has requested.
End with a polite closing: End your email with a polite closing, such as "Sincerely" or "Best regards," and include your full name.
Proofread your email: Before sending your email, make sure to proofread it carefully for any spelling or grammar errors.
Here is an example of a professional email for a job:
Subject: Application for [Job Title] Position
Dear Hiring Manager,
I am writing to express my interest in the [Job Title] position that was advertised on your website. I have [number of years] years of experience in [related field], and I believe that I would be a great fit for this position.
In my current role at [Current Company], I have developed strong skills in [relevant skill or experience], which I believe would be valuable in the [Job Title] position. I am excited about the opportunity to work with your team and contribute to the success of the company.
Please find attached my resume and cover letter for your review. Thank you for considering my application. I look forward to the opportunity to discuss my qualifications further.
Sincerely, [Your Name]